Are you looking to set your business apart from your competitors? A great way to do that is to start with professional images for use on websites, social media, and in print publications for the purpose of marketing or promoting your brand, products, or service.

---
Communicating Your Brand to Your Customers
Photography is a tool for communicating your brand message to your customers. Here are some tips on how to use photography to tell your brand story:
Determine your brand's story: Before you start taking photos, you need to have a clear understanding of what your brand stands for and what story you want to tell through your photos. Consider your brand's values, mission, and unique selling points.
Use consistent visual elements: Make sure that your photos are consistent in terms of colors, style, and composition. This helps to create a cohesive visual identity for your brand.
Show your product in use: Customers want to see how your product can be used in real-life situations. Use photos to showcase your product being used by happy customers or in different settings that demonstrate its versatility.
Feature your team: Customers like to see the faces behind the brand. Use photos to introduce your team members and show them at work. This can help to build trust and establish a personal connection with your customers.
Use storytelling: Use photos to tell a story about your brand. This could be a behind-the-scenes look at your manufacturing process or a photo essay about your brand's journey. This helps to create a connection with your customers and makes your brand more relatable.
Use social media: Social media platforms like Instagram and Pinterest are great places to showcase your brand's photography. Use these platforms to engage with your customers and build a community around your brand.
Remember, your photography should reflect your brand's personality and values. By following these tips, you can use photography to effectively communicate your brand message to your customers.
---
Profile - Vivác Winery
Vivác Winery is the creation of brothers Jesse and Chris Padberg, along with their wives, Michele and Liliana Padberg, respectively. In November of 1998, Jesse and Chris embarked on a new mission "to make the best wine possible and have a good time doing it!" This meant professionally crafted, world-ranked, dry red wines, a first for New Mexico. While the brothers had grown up experimenting with making fruit wines from the family farm, this journey would prove to be one that required dedication, devotion, sacrifice and courage.

The winery facility is on the family property where Chris and Jesse were born and raised, tucked into the Dixon foothills, surrounded by apple orchards. The winery includes a quaint tasting room, a beautiful 900-square-foot adobe that was built by the winemakers themselves in 2003. Enchanting flower beds and meandering pathways greet visitors as they approach the flagstone courtyard. French doors open to the spacious showroom where every sense is delighted.
The original building is a 500-square-foot Rastra-block space built by the winemakers in 1999. This space was quickly outgrown, and in 2004 Chris and Jesse built a 1500-square-foot metal building to expand. This new building was fully insulated and equipped with a heating and cooling system designed to keep the wines at a constant temperature from fermentation to oak aging and finally to bottle. The initial building is now used for storage of bottled wines awaiting release. The total winemaking facility is 2000 square feet, not nearly enough for the 20% yearly growth in production. In 2018 Chris and Jesse built a barn to house vineyard equipment and in 2019 a storage space to house materials needed in the bottling process. Each year of growth requires more space and eventually we hope will result in a full winery facility with event spaces and a new expanded tasting room in the years to come.
---
Profile - Terry McCaulley, Sculptor
Terry McCaulley is a self-taught sculptor who started carving in native cedar at the age of 11. Since 1991 he has been a full-time sculptor. He was born In 1954 and has lived and worked in and around Taos all of his life.
Adam photographed Terry at his studio near Taos under natural light with a touch of fill light from a strobe and reflector as he worked on an alabaster sculpture of a buffalo. He spent about an hour photographing Terry as he worked. It was a warm summer day, and Terry wanted the photos to be as authentic as possible, just like him.


"As our vision reaches a finished piece of work, it lives on through others as they share in the process of creating through touching and seeing. Art is a beautiful way to enter into the present moment… a way to tap into the infinite flow of creation, a form of prayer, meditation, and sharing as we open our hearts to the gifts that lie within. To me, learning is listening, observing, and experiencing spirit. I only wish that each one of us could find our God-given gifts and follow those gifts with passion. It seems that the world would be a much more beautiful place if that could happen."
"Sculpting involves many beautiful aspects, as do all areas of the creative spirit. It is my belief that we are created in the image of our Creator, who is the greatest artist of all. As co-creators, we honor what has already been created in its ever-changing but, in part, seemingly stable forms. The spirit of creativity exists within each and every one of us in abilities waiting to be discovered. There are so many different mediums, with their natural colors and shapes and workable contents, for us to work with! The love and desire to do any certain thing are the first and most important tools. With those two things intact, we will seek a way to find our mediums, our tools, and the time to challenge ourselves and our materials. It is in our greatest challenges that our greatest potential for growth exists. The lessons that we are given through trial and error are priceless."
~ Terry McCaulley
---
Profile - Pine Canyon Golf Course
Pine Canyon golf course is a world-class golf course located in Flagstaff, Arizona. It is set among the stunning natural beauty of the Coconino National Forest, with the San Francisco Peaks in the background. The course was designed by Jay Morrish, a renowned golf course architect, and it opened in 2003.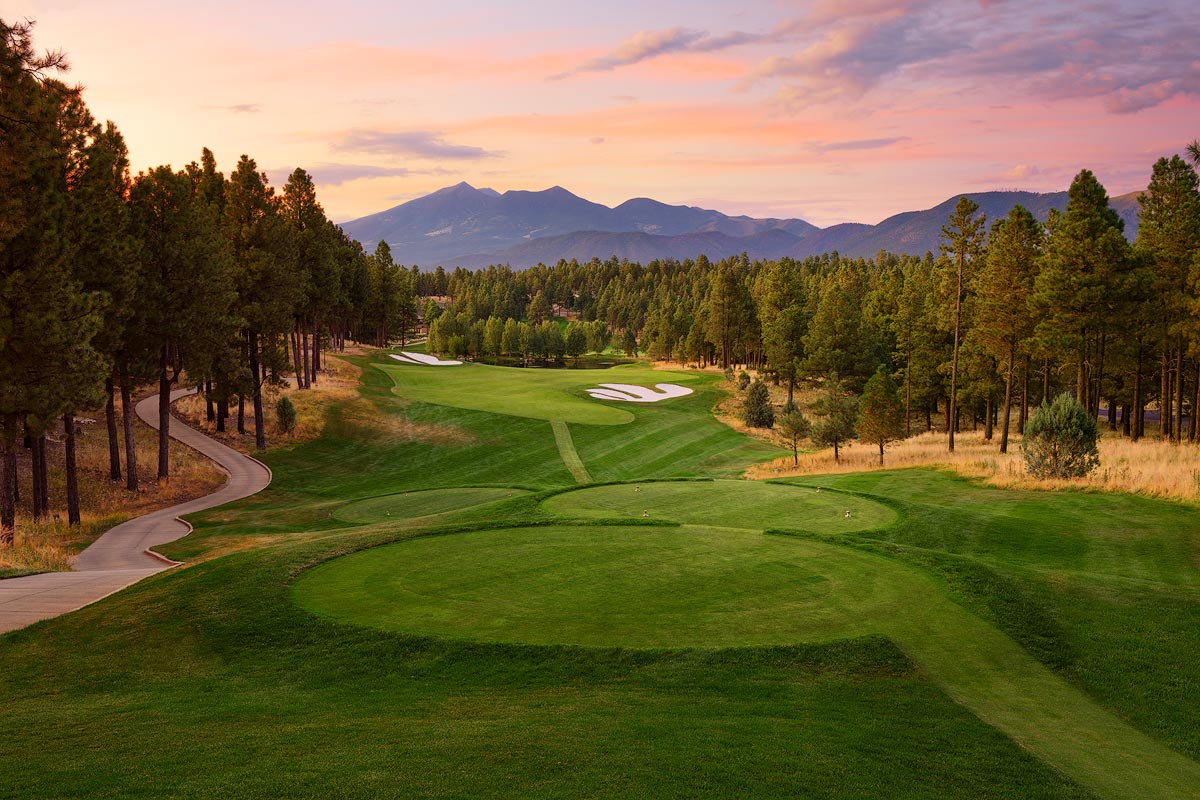 The course at Pine Canyon is an 18-hole, par-72 championship course that measures 7,135 yards from the back tees. It features challenging and unique holes that are designed to be enjoyed by golfers of all skill levels. The fairways are wide and generous, but the greens are small and undulating, which makes them difficult to hit and hold.
Adam was hired to photograph the course with the goal of showing it set within the tall Ponderosa pine trees with a backdrop of Mount Humphreys and the San Francisco Peaks.
---