Photography Tours & Workshops Designed for You
I specialize in creating custom photo tours & workshops for individuals and groups of friends and family that want to get the most out of their limited time at the Grand Canyon. I have worked with everyone, from beginner photographers to those with years of experience. My one-on-one photography experiences are about you as I custom-tailor the experience to your schedule and skill level.
I offer workshops ranging in length from a half-day trip to multi-day intensive workshop experiences. I'm available for workshops year-round on the South Rim and seasonally on the North Rim from mid-May to mid-October.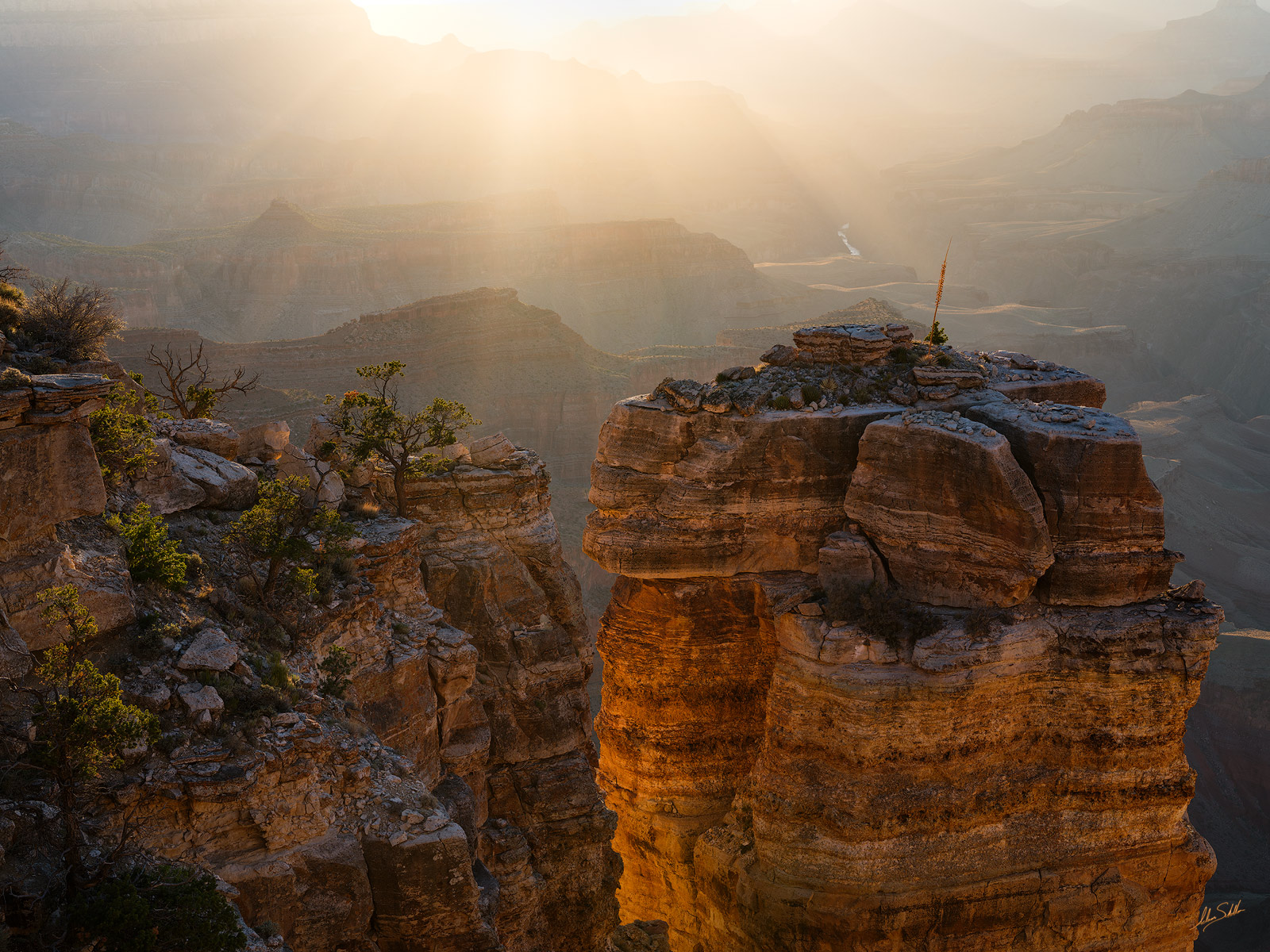 What Will We Do?
My private Grand Canyon photo tours & workshops allow you to work alongside me as I share my approach to making fine art landscape photographs. I'll demonstrate making images with strong foregrounds, layering elements of the landscape, and how work with challenging lighting conditions. You can take what you learn from me and apply it to any location or subject.

Night Sky Photography
Photographing the Grand Canyon or surrounding terrain under a night sky can be a real treat. Grand Canyon is certified as an International Dark Sky Park. Depending on the moon phase, we may photograph the stars above the canyon or the canyon under the moonlight. This session is typically limited to 1-hour of shooting, beginning approximately an hour after sunset. I do not charge an additional fee for the night photography session. I consider it a bonus session if the weather cooperates.
What Viewpoints Will We Photograph From?
The South Rim of the Grand Canyon has nearly 20 named viewpoints, and the North Rim has seven designated viewpoints or overlooks. In addition to the designated viewpoints, both rims have many unnamed and unknown overlooks.
Many of these locations can be incredible to photograph from, but the challenge is knowing the best places for the given light and weather conditions. Because of this, I usually wait to select locations until the day of your workshop so that we can adapt to changes in light and weather to put you in the best spot possible.

Friends and Family
Let me know if you're traveling with family or friends, and I can create an experience that is just as fun and informative for them too! A friend or family member is welcome to tag along with each paid participant.
About Me
I've been photographing the Grand Canyon since 2008. In 2009 I was one of three people out of 303 applicants selected to be an Artist-in-Residence that year for Grand Canyon National Park. Since then, I have spent, on average, 70+ days a year exploring the canyon looking for new vantage points, learning its secrets, and photographing it.
I began leading workshops and tours at the Grand Canyon in 2010. That same year I began volunteering with youth programs, and in 2019 I began giving presentations to visitors and photography clubs about the Grand Canyon. My publishing credits include National Geographic, Arizona Highways magazine, the National Park Service, Grand Canyon Conservancy, and many others.
Perhaps above all else, Grand Canyon is my artistic home, and it's the place I am most passionate about. I look forward to sharing it with you.
---
Get my Workshop Guide to Learn More
You can learn more about my one-on-one photography workshops & tour in my Workshop Guide, available for free as a PDF. To get the guide, send me a message, and I'll send it to you in an email.
---
Scheduling & Availability
If you're ready to sign-up for a private workshop or tour, please get in touch with me to confirm my availability for your requested date(s). Feel free to send me a message or call or text me at 928-864-6423 to check on your date(s).

I want to make your visit to the Grand Canyon a great experience! The Grand Canyon is a place that I genuinely love and respect, and I feel it's a privilege to share it with my clients.